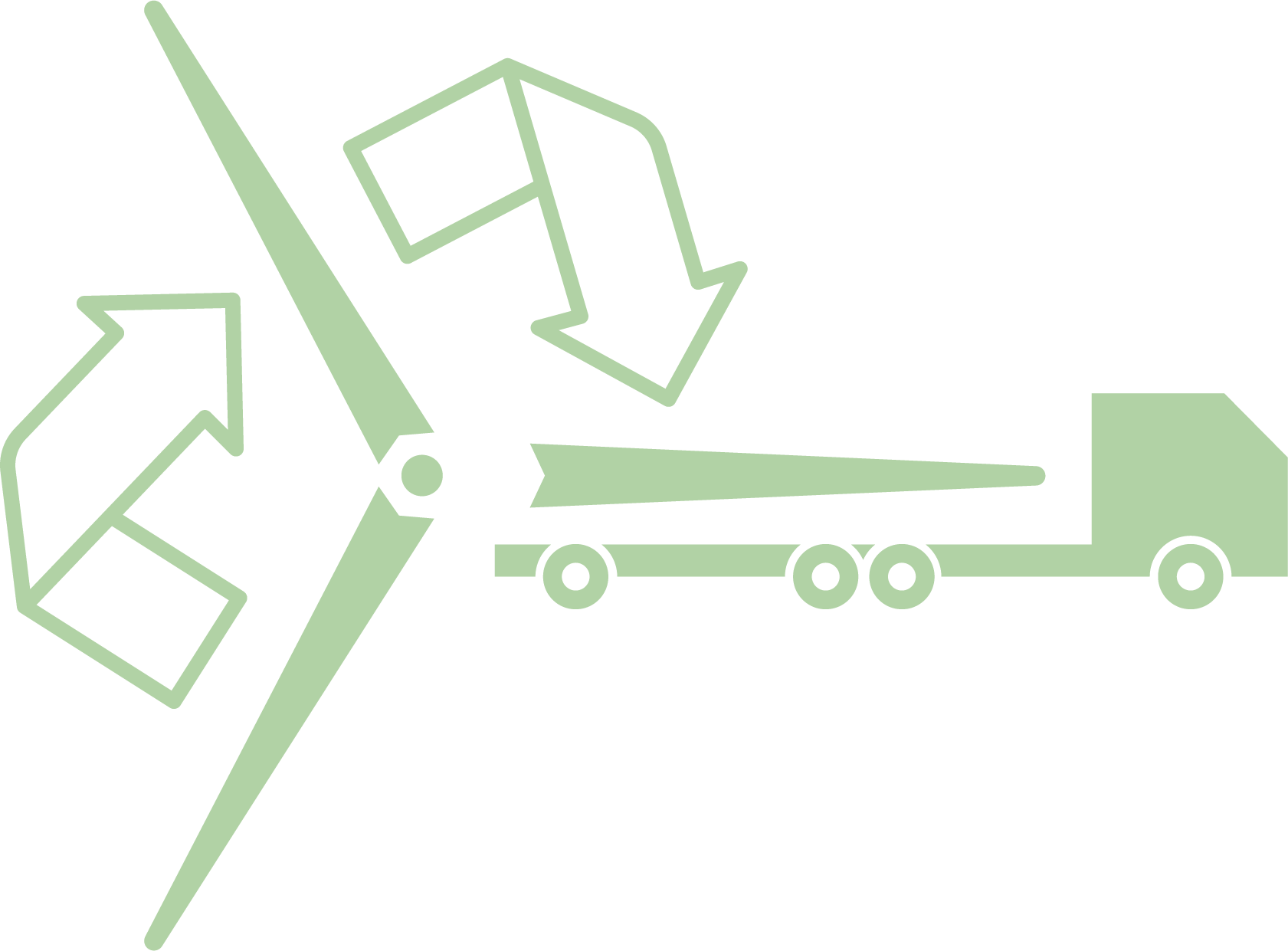 A three-year project providing the basis for commercialization of sustainable recycling of wind turbine blades.
Read more about the recycling technologies here.
Vision
Establish functional, sustainable value chains to handle end of life wind turbine blades from decommissioning, to re-processing and recycling in new applications.
Support Danish industry partners in becoming leaders in recycling polymer composites and wind turbine blades.
Upscale the results achieved in DecomBlades with an international plan.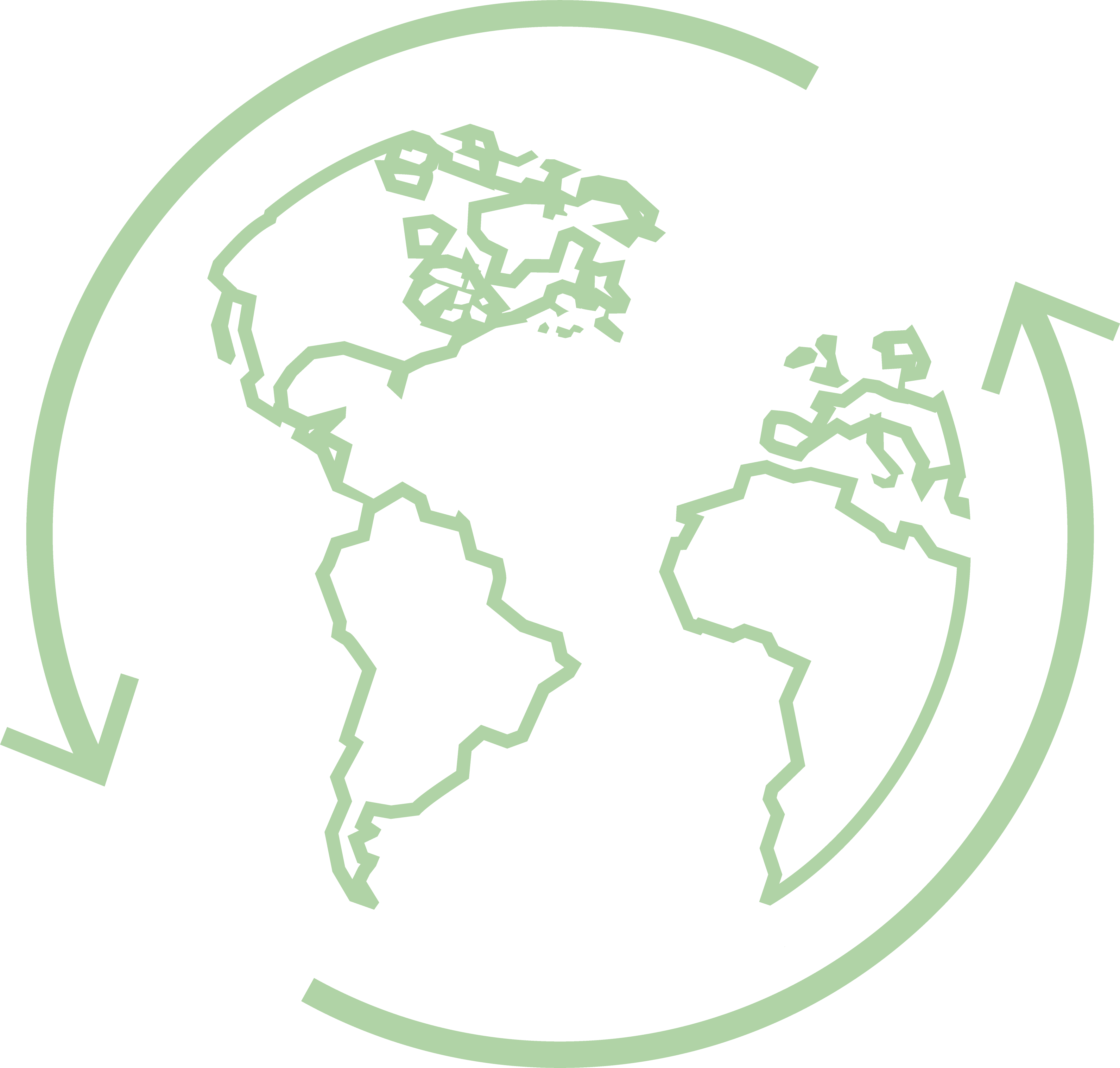 The DecomBlades innovation project has created a new specification for recycling partners to recycle blade material, the so-called Blade Material Passport.
Today, there is a market for recycling most of a wind turbine, but there has not been a market for the composite that makes up the blades.
The DecomBlades innovation project addresses this with a new specification for disposal making it easier to dismantle and recycle the blades. This will help industrializing the blade recycling industry and further reduce the footprint from the wind industry.
Download the Blade Material Passport documents here
The Wind Industry Challenge
Today, the turbines of the wind industry's early days are reaching their end of life. Some are life extended while others will be decommissioned during the next years.
The magnitude of the recycling challenge is only beginning to surface. According to WindEurope, in Europe, decommissioned blade material will rise to 350.000 tones in total by 2030 – up from less than 100.000 tones today (Wind Europe, Accelerating Wind Turbine Blade Circularity, 2020). As you can see in the charts below, the blades are distributed across Europe, however Germany, Denmark and Spain in particular will experience the largest volumes of blade material in the short term.
The wind energy industry is committed to finding a sustainable way to dispose of these decommissioned wind turbines with respect to the environment, health and safety of workers, energy consumption and cost, and we don't have recycling process solutions yet. Read more about the volumes of blades to be decomissioned here. Read the European wind industry's call for a ban on landfill of blades here. Please note that the graph below is from EoLIS 2021 and has not been published as part of a report yet.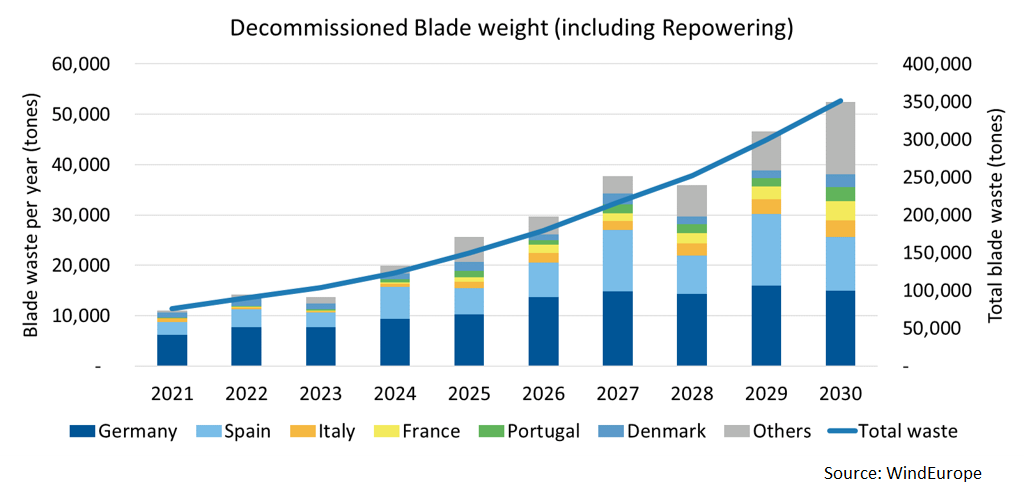 The Cross Industry Challenge
of a wind turbine recyclable today
Today 85 to 95% of the entire wind turbine can be recycled (WindEurope, Accelerating Wind Turbine Blade Circularity, 2020). But cost-efficient recycling of composite materials remains a challenge. On a global scale, an estimated 2.5 million tons of composite materials are currently in use in wind turbines (ETIP Wind, How Wind is Going Circular, 2019).
The wind power industry produces far less composite waste compared to other industries – such as the construction, electronic, transport and shipping industries – nonetheless it is an important objective for the wind power industry to ensure sustainable recycling solutions exist for all materials used in a wind turbine. As the wind power industry grows, that responsibility becomes even bigger.
of european composite waste are from wind in 2025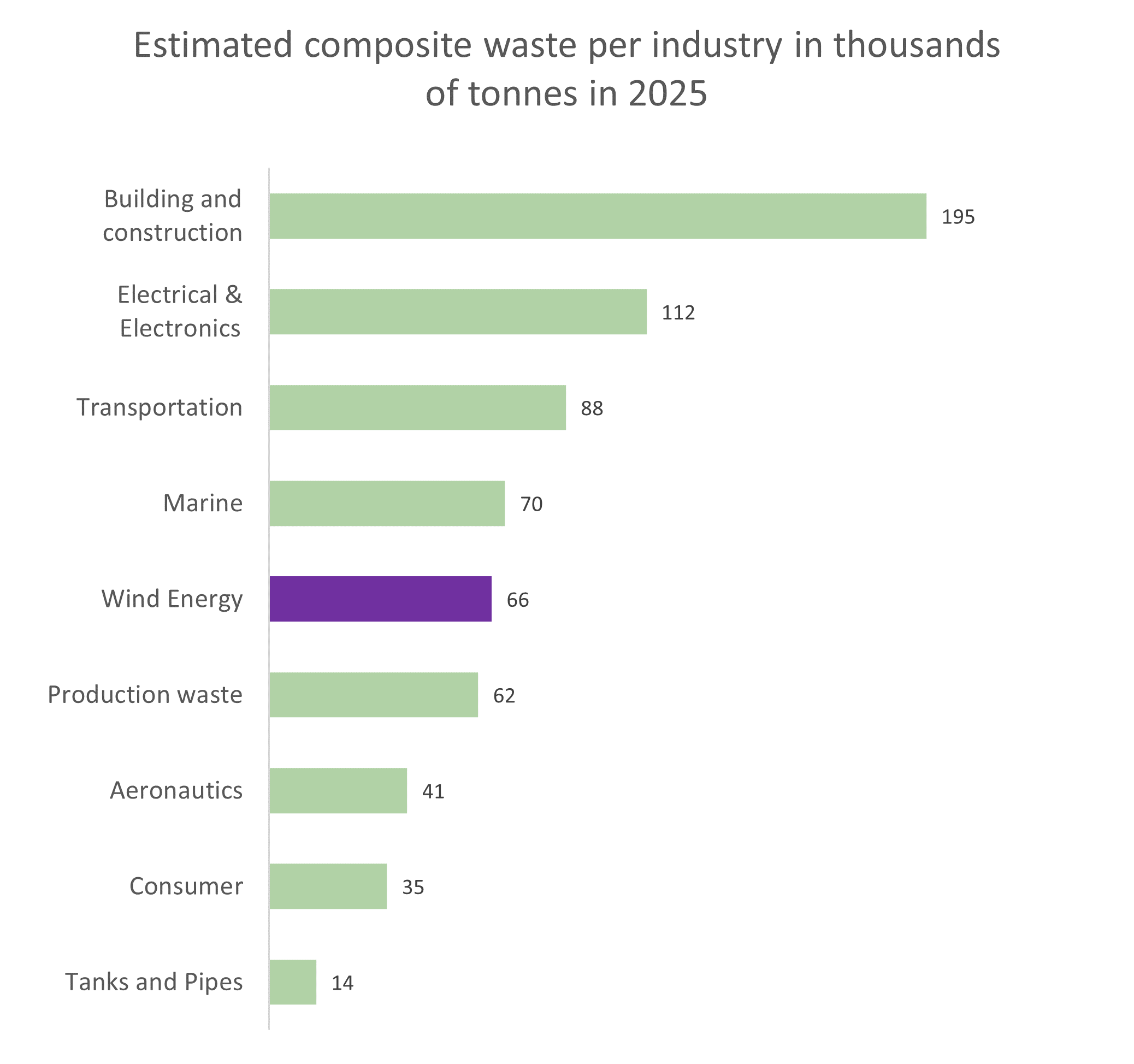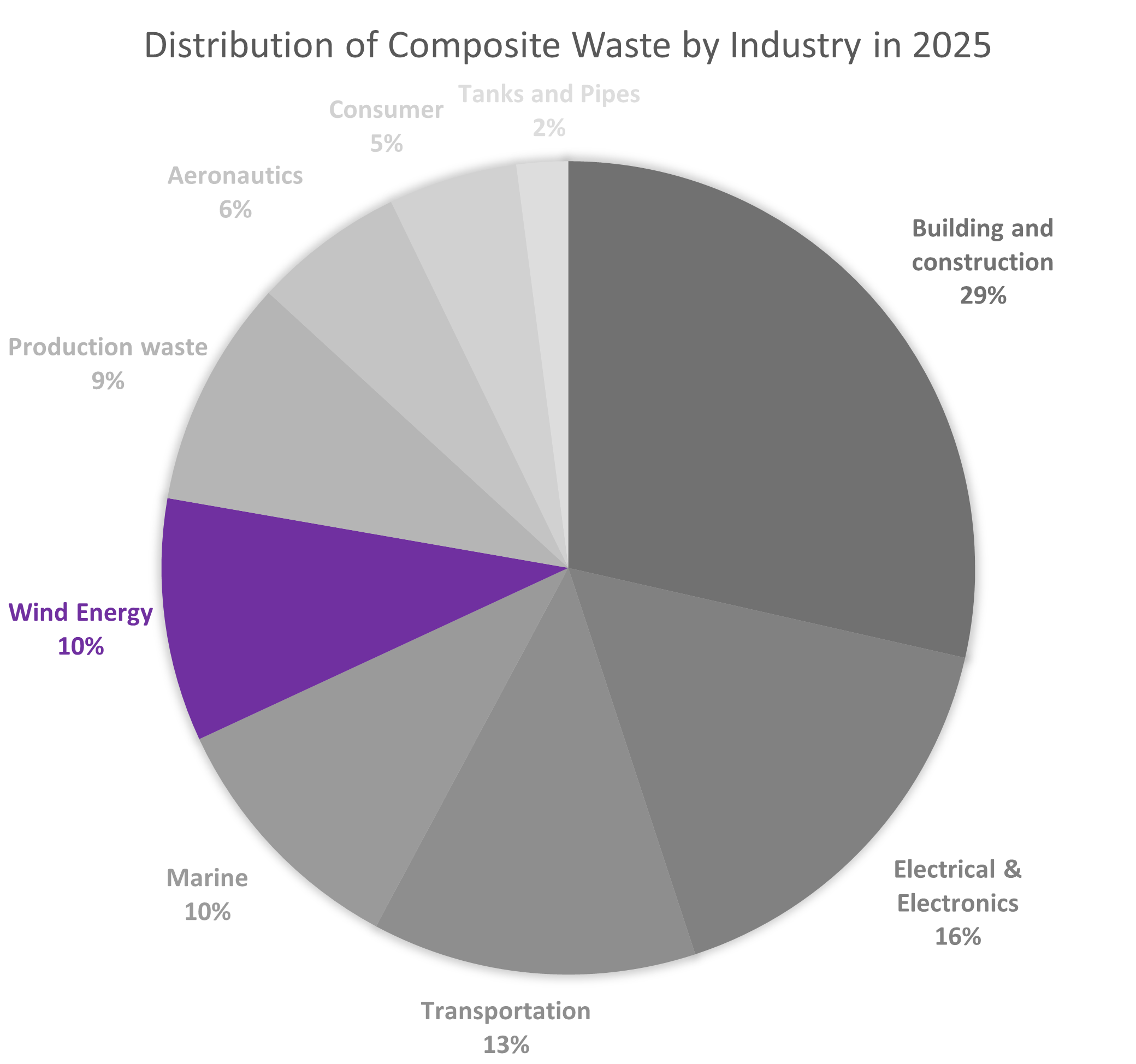 Recycling Technologies
Mature recycling technologies for blades already exist, but they are not widely available or cost-effective yet. DecomBlades seeks to form the basis for commercializing recycling technologies, therefore the partners chose to focus on three tracks which are most technologically mature as well as the most cost-effective processes: mechanical shredding, cement co-processing and pyrolysis (ETIP Wind, How Wind is Going Circular, 2019).
Pre-processing and Shredding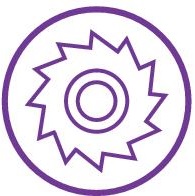 What is it?
Cutting and preparing for transportation is the first step of a decommissioned Wind Turbine Blade. There are several options for doing this such as water jet cutting, diamond wire cutting, hydraulic cutting etc. Depending on the blade shape, size and the final application an appropriate method will be used to fit these needs.
Shredding is a way to mechanical grind a Wind Turbine Blade into smaller sizes).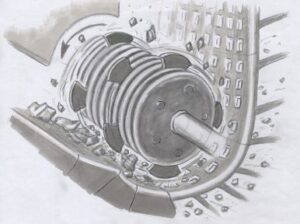 After shredding the Ferrous and Non-Ferrous metals are removed from the composites.
Status
At our plant in Hadsund HJHansen Recycling already have all permits needed and we can carry out shredding of decommissioned Wind Turbine Blades.
Output
The output from the shredding process is materials in various sizes. Depending on the final application, further processing may be needed. At the same time, some applications may not require grinding of the blades.
Next step
We already have some applications in place for the materials. Our aim is to find even more applications and mature the market even further. This may lead to new requirements which again may require us to create new processes. Our aim is to go as high in the waste hierarchy as possible. Circular Economy at its best. If you want to stay updated, sign up here.
Project end result
At the end of DecomBlades we will have concept-designed a full-scale shredding plant for composite materials which we expect to build and operate in Denmark.
Pyrolysis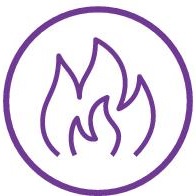 What is it?
Pyrolysis degasification is a process that can refine and separate complex material compositions of cumbersome materials. Materials are heated in an oxygen-free atmosphere, until the materials go in gaseous form. The gas then condenses.
Pyrolysis of composites converts the resin into liquid (e.g. used as fuel or in the chemical industry), gas (e.g. used for heating or electricity) and solid materials (glass fibres, carbon fibres, ash). Currently, no industrial scale pyrolysis installation is processing glass fibre reinforced thermoset composites.
Status
At Makeen Power we have carried out several controlled small scale tests which, combined with our knowledge from Plastcon etc., have enabled us to design a Pilot plant which we later in 2022 will be able to operate in a continuous process.
Output
The primary output of the pyrolysis process is liquid (e.g. used as fuel or in the chemical industry), gas (e.g. used for heating or electricity) and solid materials (glass fibres, carbon fibres, ash). We have carried out initial analysis of the outputs which looks promising. If you have a genuine interest in using pyrolyzed composite materials (oil, gas or fibres) in your production you are welcome to reach out to us on IBV@makeenenergy.com.
Please note that we are a developer and manufacturer of pyrolysis plants, we do not operate them (except as part of the development process).
Next step
The pilot plant will be commissioned in Q1 2022. In Q2 2022 we will share details on the quality of the outputs. If you want to stay updated, sign up here.
Project end result
At the end of DecomBlades we will have concept-designed a full-scale pyrolysis plant for composite materials which interested parties can order.
Cement Co-Processing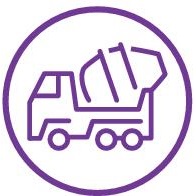 What is it?
The main technology for recycling waste is the co- processing in the cement industry which consist in the use of the pyro system (calciner and/or kiln) to incinerate waste materials. For that a full characterization of the waste has to be carried out, analyzing its main properties to ensure a better use of the waste. The waste and the ashes from the incineration can be reused in the three streams:
as alternative fuel,
cement component or
SCMs (supplementary cementitious materials).
The amount of waste material used can vary according to the fuel properties, and type process and materials. Having a good understanding of the environmental impacts associated with the choice of materials during design and with the different waste treatment methods at end-of-life through life cycle assessments will help define an appropriate strategy to convert an unwanted discarded material to a useful source.
Status
The projects has defined the main requirement for the use of blades as alternative fuel in the cement industry as:
Moisture content, high moisture less calorific value
Particle size: high specific surface area improves the calorific value of the fuel
Calorific value
Amount of volatiles: volatiles as Chlorine and Sulphur leads to buildups in the calciner and kiln systems impacting negatively the pyro process. Also clinker quality can be affected inducing to low late strength and rheology problems.
Homogeneity: chemical and physical aspects can impact calorific value of the fuel and they will also impact the clinker quality
Four archetypes of blades were selected, ground and a full characterization of the Blades were carried out in order to ensure that they full fill all parameters required for a fuel.
Output
The recycling of blades proposed in this project fits well into the necessities of the actual scenario and perspectives of the cement industry where the overall goal is to achieve sustainable materials, avoiding depletion of resources and decreasing CO2 emission.
The main output of the project is to find sustainable solutions for recycling blades in the cement industry. Three possible solutions with 4 different archetypes of blades (glassy and carbon fibers) will be investigated in the present project importance of blades recycling, solution and the possibility of blades reutilization as:
Alternative fuel,
Ashes as SCMs;
Ash as clinker constituent.
Next step
Blades can be a source for clinker production, for instances glass fibers can be rich in SiO2, the blades can be a potential material to substitute the clay raw material in the clinker production.
The next steps of the work will explore blades and blades ashes as clinker component and as SCMs (supplementary cementitious materials). If you want to stay updated, sign up here.
Project end result
The results are intended to showing the feasibility of the use of Wind turbines blades in the cement industry, encouraging blades recycling and new materials development, by relating fundamental research to the normalisation process.
Project Timeline
The DecomBlades project is off to a running start, with the blade manufacturers within the project providing materials to the recycling partners to be processed by partners and used in their tests, and with the university teams working closely with all partners to capture data as inputs to the analyses of the materials, processes, and value chains.
Results
The collaboration across the value chain has provided good learning points from the outset, project results will be shared here as soon as possible. Sign up to stay up to date.
The Blade Material Passport were developed by mapping out the composition of the blades of three major blade manufacturers Siemens Gamesa, LM Wind Power, and Vestas; all involved in the DecomBlades innovation project. Once mapped, the data has formed the base for a standardised recommendation for blade disposal specifications, which includes what materials are used in the blades and where they are situated. This makes it is easier for recycling companies to separate the blades and recycle the parts.
Vingeproducenter går sammen om genanvendelse med nye materialepas   For at understøtte enkel, omkostningseffektiv og skalerbar genanvendelse af vindmøllevinger har flere store vingeproducenter fra...
Other Recycling Projects
As it is an important topic there is a number of other projects focusing on decomissioning of wind turbines such as:
In addition there is a number of projects that focus on end of life composites in general such as:
Ecobulk (A project that is rethinking and demonstrating circular applications for the furniture, automotive and constriction industries)
Recy-composite (Recycling of composite materials: cross-border approach towards a circular economy)
Projects marked with an asterisk are finished, the rest are ongoing. If you know a project which should be on the list, email us.
Vestas Wind Systems
As the world's largest wind energy OEM, Vestas brings an extensive level of expertise around the composition and manufacture of turbine blades. In early 2020, Vestas introduced ambitious targets to increase the recyclability rate of its rotors, as well as an increased focus on addressing the decommissioning of existing blades. Vestas committed to producing zero-waste turbines by 2040. In support of the DecomBlade project, Vestas will provide blade samples for testing purposes. Vestas contributes a broad spectrum of knowledge on the expected lifetime of a blade, its production volume, and on assessing the potential for recyclability.
Siemens Gamesa Renewable Energy
Siemens Gamesa unlocks the power of wind. For more than 40 years we have been a leader in the wind industry and our team of more than 25,000 colleagues work at the center of the global energy revolution, tackling the most significant challenge of our generation – the climate crisis. We continue pushing the boundaries of sustainability by creating a better future for generations to come. With our RecyclableBlade – the world's first recyclable wind turbine blade – we have reached a major milestone towards a waste-free future for the wind industry. The company also aims to make turbines fully recyclable by 2040.
LM Wind Power – a GE Renewable Energy business
LM Wind Power – a GE Renewable Energy business is a world leading designer and manufacturer of wind turbine blades, with more than 241,000 blades produced since 1978 corresponding to 121 GW installed capacity. LM Wind Power will lead on the work to establish product disposal specifications for wind turbine blades, utilizing its expertise on blade construction and material composition. In order to support efficient waste management of decommissioned blades and new business models for recycling methods, LM Wind Power will work with project partners Siemens Gamesa Renewable Energy and Vestas Wind Systems A/S to contribute knowledge on expected blade lifetime and to assess the value of recycled materials.
Ørsted
Ørsted is the world's largest owner and developer of offshore wind farms with more than 6.000 employees globally. For Ørsted it is important that there exist sustainable recycling solutions for all parts of our wind farms. Therefore, Ørsted will take the role as project lead in DecomBlades.
HJHansen Recycling
HJHansen Recycling will be lead on the work regarding the common prerequisite for all three technologies: preprocessing, i.e., cutting of blades to ensure it is possible to transport blades to recycling facilities in an economically-viable way. Furthermore, HJHansen will work with solutions on shredding of the blade materials and explore the market for use of shredded blade materials in new products.
MAKEEN Power
MAKEEN Power is lead on the work within the pyrolysis technology and will design and build a pilot pyrolysis facility dedicated to treatment of blade materials. The pilot facility will be developed and based upon existing MAKEEN Power technologies.
FLSmidth
FLSmidth is going to investigate the possibilities of using shredded blade material and ashes from the pyrolysis process in the cement production process. The main objective of FLSmidth is to evaluate possible solutions on how to incorporate these materials in the cement production on a global scale. Blade materials can decrease the environmental impact from cement production and strengthen FLSmidth's position as a knowledge and technology provider to the cement industry.
University of Southern Denmark, SDU
University of Southern Denmark, SDU, will conduct environmental and economic performance assessments of the different supply chains and apply a cutting edge hybrid assessment frame based on value chain analysis, life cycle assessment, material flow analysis and multi-criteria decision support. This includes research into further development of the economic and environmental sustainability assessment frameworks that are relevant for the Danish wind turbine industry and other areas in terms of optimum recycling of composites materials.
Technical University of Denmark, DTU
Technical University of Denmark, DTU, will contribute within the fields of material characterization, engineering, assessment of material properties of reused glass fibers, surface properties and investigate the possibilities of increasing the quality and value of fibers obtained from pyrolysis.
Energy Cluster Denmark, ECD
Energy Cluster Denmark, ECD, is the national Danish innovation network and cluster organization for the entire energy sector and gathers Danish companies to be part of these new supply chains. Furthermore, Energy Cluster Denmark will develop new research and development projects based on the opportunities emerging from the technical solutions being developed and matured during the DecomBlades project.
We need to continue to work across sectors and with policymakers to stimulate the market for recycled materials. By using recycled materials into new products, companies can avoid the environmental impacts and emissions associated with extracting virgin materials.
DecomBlades partners are preparing to provide recycled composite materials into these new products and new value chains, and welcome ideas and business models that will create more pull for recycled material within a circular economy.
Sign up here to stay up to date with the project.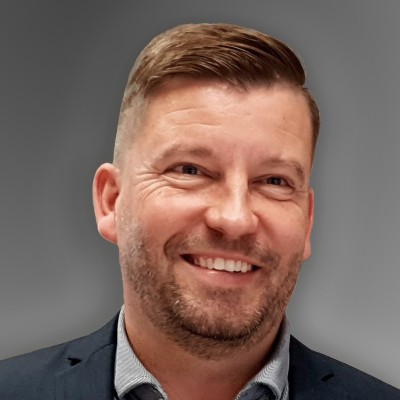 Project Communication
Thomas Vohs-Ahlers
Project Manager
Energy Cluster Denmark
tva@energycluster.dk
+45 5389 2050
Interested?
Sign up to stay up to date with the latest news from the project or
email
us directly with questions.